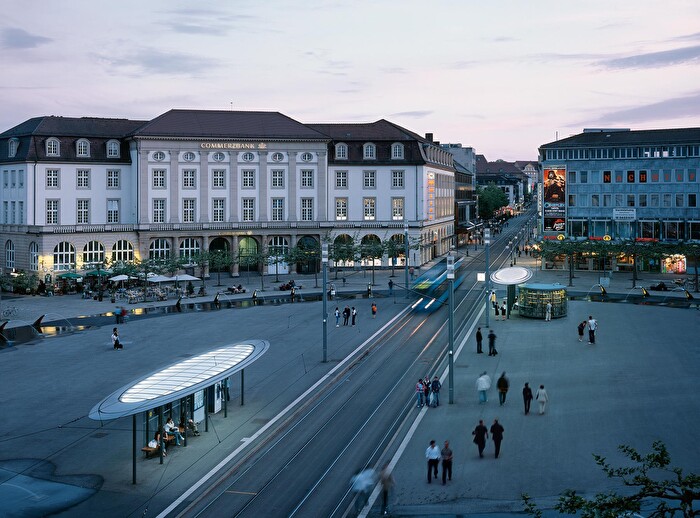 Tram-Stop Shelter and Kiosk
Kassel's central circular Königsplatz was designed by urban planner and architect Louis du Ry in the 18th century, and is well-known to the city's people.
The present-day tram-stop shelters have a dual function: to mark the location of the tram stops and to provide a place to pause, at the same time indicating the direction of the main route along Königsstrasse in what is a largely directionless plaza. They mediate between the circular space and the dynamics of the tram line.
The roofs are flat ellipsoids, with curved outlines that reflect the geometry of the plaza and develop it along the line of the main orientation of the space. They make reference to the idea of the "clouds of Hercules", discussed a few years ago, but have developed away from the cumulus towards the cirrus type – good-weather clouds and geometrically regular.
The kiosk takes the form of a glazed pavilion nestling beneath the northern shelter. The clear basic shape of the kiosk is again inspired by the circular shape of the plaza, without replicating it exactly. The contents of the glass structure, newspapers and magazines, are openly displayed so that the information, while forming the content, is transformed by the glazed shell into part of the structure.
Building Typology:
Transport, Infrastructure | Retail
Location:
Kassel
Country:
Germany
Planning / Construction Period:
07/2003 - 11/2004
Order type:
New Building
Client:
documenta-Stadt Kassel. The building department acting for the municipality.
Project Participants:

Project management: Straßenverkehrsamt Kassel
Structural engineer: Bollinger + Grohmann GmbH, Frankfurt
HVAC: InnovaTec GmbH, Ahnatal

Scope of Services:
Architecture
Interior Design
Urban Design