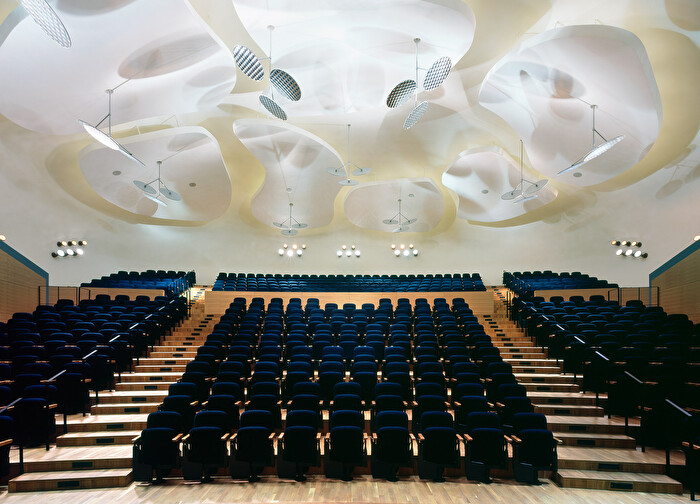 Skin Research Center
HHS developed a skin research centre for Beiersdorf AG in the Hamburg district of Eimsbüttel. The new building, with a total area of around 16,000 m², houses laboratory space and offices for 200 researchers, a clinical trial centre and an auditorium with a capacity of 500.
The development consists of a range of buildings and open spaces with contrasting organic and geometric forms. The "skin" of the building is made of materials such as brick, glass, metal and fair-faced concrete. A bridge with a clear span of 70 m connects the researchers and developers, who are spread between the old and new buildings.
The open spaces offer the employees quality areas in which to relax. The water feature in front of the entrance catches the rainwater from the building. The shallow depth of the buildings and transparent partitions give the laboratories plenty of natural light and outstanding spatial qualities.
Building Typology:
Office | Interior design
Location:
Hamburg
Country:
Germany
Planning / Construction Period:
02/2001 - 06/2004
Order type:
New Building
Client:
Beiersdorf AG, Hamburg
Project Participants:

General planning: EUROLABORS AG, Kassel
Laboratory planning: EUROLABORS AG, Kassel
Structural engineer: Büro Dr. Meyer, Kassel HVAC: HL-Technik, Hamburg
Landscape architecture: Latz + Partner, Kranzberg; Kontor Freiraumplanung, Hamburg
Fire protection: HHP, Braunschweig Building physics: Taubert + Ruhe, Halstenbek

Scope of Services:

Architecture

Gross Floor Area:
15340 m²