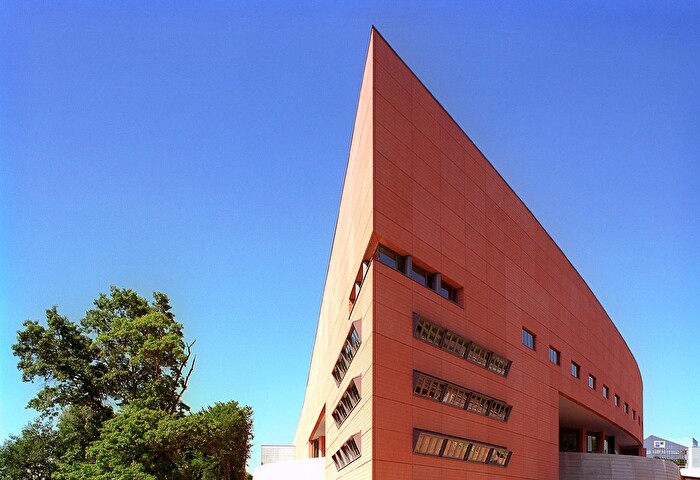 Exhibition centre extension
The architects' practice Mario Bellini won the 1997 competition to design the expansion of the exhibition space in Essen. The project was implemented by a joint venture between Bellini and HHS.
The new exhibition hall connects closely with the existing buildings to the west, keeping the impact on the adjacent park to a minimum. In order to improve the internal structure, a gallery reminiscent of a spine was incorporated into the existing building. This forms the connection between the old and new halls and its distinctive profile provides an additional orientation feature for visitors.
A 2-storey substructure of the new exhibition hall houses car parking spaces, HGV loading bays and the arcaded enclosure of Lührmannstrasse. Above this is the new exhibition hall with a new entrance foyer, restaurant and conference centre. The roof of the gallery is covered with over 700 roof-integrated photovoltaic modules, covering a gross area of 2,180 m² and providing an annual yield of 150,000 kilowatt hours.
The original competition-winning design by MBA also included a new reception zone to the east with a hotel, congress and welcome centre. This extension has not yet been built.
| | |
| --- | --- |
| Building Typology: | Retail |
| Location: | Essen |
| Country: | Germany |
| Planning / Construction Period: | 03/1999 - 10/2001 |
| Order type: | New Building |
| Client: | Messe Essen GmbH, Essen |
| Project Participants: | Joint Venture Messe Essen with Mario Bellini Associati, Mailand and Messe Essen GbR Structural engineer: Polonyi & Partner GmbH, Köln; Arup GmbH, Düsseldorf HVAC: Gertec GmbH Beratende Ingenieure, Essen Project management: Drees & Sommer, Köln Landscape architecture: LAND Srl, Andreas Kipar, Mailand / Duisburg |
| Scope of Services: | Architecture |
| Gross Floor Area: | 105000 m² |