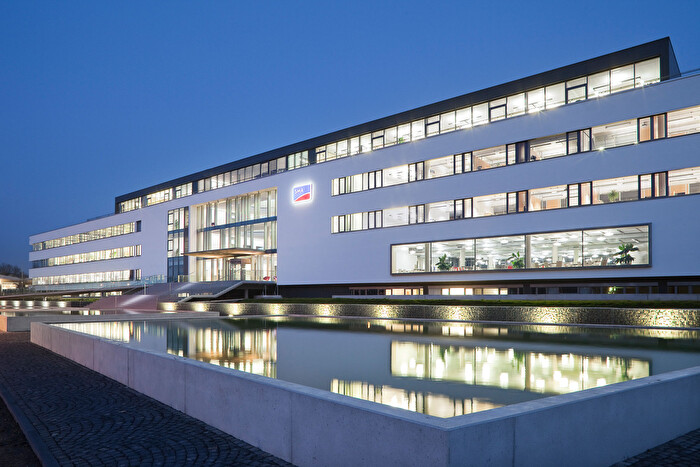 Administrative and Operations Building
This new building completes the master plan for the main premises of SMA Solar Technology AG. Formerly the rear of the site, this has become the main address with a new central access.
The five-storey building houses the boardrooms, offices, works restaurant, electronics laboratories and the new multi-storey main entrance hall of SMA Solar Technology AG, and creates a new prestigious address facing onto the open space of the Fulda valley.
The functional modern appearance with integrated photovoltaic (PV) modules in the façade and roof is an outward reflection of the company's philosophy.
The use of flexible office partitions enables the interior to be adapted to constantly-changing requirements.
As well as the PV system integrated into the fabric of the building, the ceilings are of thermally-activated hollow concrete slabs operated by geothermal energy and heat pumps. These provide a comfortable interior climate and, in combination with the PV, reduce the primary energy requirement for cooling and heating by around 50% compared with conventional buildings.
Building Typology:
Office
Location:
Niestetal
Country:
Germany
Planning / Construction Period:
07/2007 - 08/2008
Order type:
New Building
Client:
SMA Immo GmbH, Niestetal
Project Participants:

Structural engineer: IB Goldmann, Habichtswald- Ehlen
Gebäudetechnik: IB Dürrbaum, Kassel
Acoustics: ita Ingenieurgesellschaft für technische Akustik mbH, Wiesbaden

Scope of Services:
Architecture
Urban Design
Gross Floor Area:
12350 m²