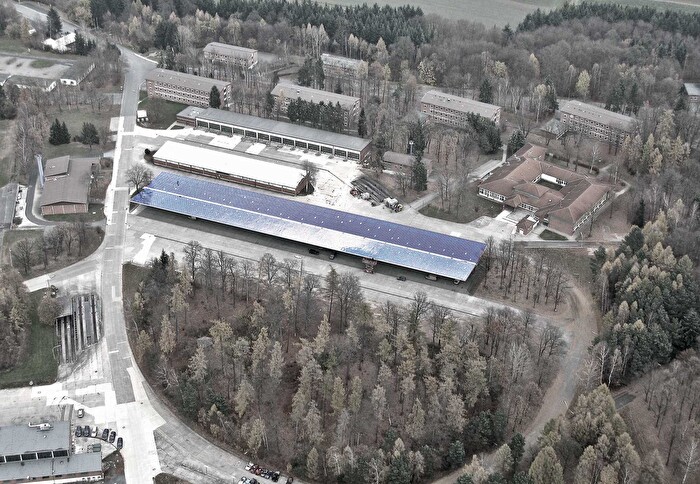 Hessen Campus Vocational training Center
The Hessen-Campus, a vocational training centre, is housed in part of the former barracks of a tank division. In addition to the structural-spatial redesign of the existing buildings, the restructuring of the barracks site intended was planned to transform the appearance of the site, formerly closed off from the outside, into an open "campus".
The first stage involved renovating the existing buildings in line with the requirements of the vocational school. The Economics department moved into the large shed that formerly housed the tank shelter. This building, incorporating the existing loadbearing structure, was transformed into a solar shed with a translucent photovoltaic roof, in which pavilion-type classrooms were installed. The pavilions and the solar shed are ventilated naturally.
The metalworking, automotive and woodworking workshops occupy the existing workshop buildings. The buildings formerly used as workshops were sympathetically reconstructed. The former administration and accommodation block was structurally adapted to accommodate the administrative department, and renovated to house part of the Economics faculty.
The existing utility building contains the central uses (canteen, assembly hall and parts of the catering training facilities). It is accessed from the "campus" via a redesigned entrance.
Further existing and new buildings are to be incorporated in subsequent phases, to expand the site to accommodate related uses, e.g. university institutes or an adult education centre.
Building Typology:
Transport, Infrastructure | Retail | Office | Interior design | Schools
Location:
Wolfhagen
Country:
Germany
Planning / Construction Period:
08/2007 - 10/2009
Order type:
New Building
Refurbishment
Client:
Dritte Projektentwicklungsgesellschaft "Schulen im Landkreis", v. d. GHT, Kassel
Project Participants:

Structural engineer: EHS, Lohfelden HVAC: enco, Kassel

Scope of Services:

Architecture

Gross Floor Area:
15500 m²
Awards:
German Solar Prize plaque 2010