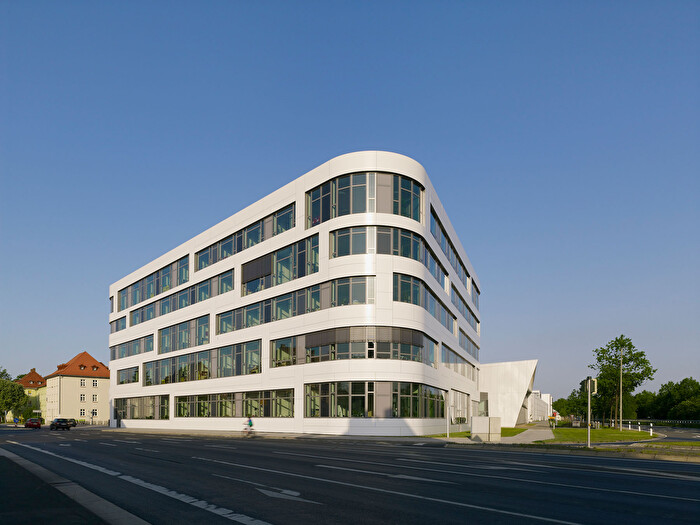 Office and Administrative Building
The plan of this scheme, with its internal glass-roofed atrium, emerged from the urban layout and parallelogram-shaped site. The offices are arranged in a circle around the atrium. The architecture and materials refer to the formal idiom of the company's adjacent production unit and combine with the latter to form an ensemble.
The walls flanking the atrium are designed in a similar way to the exterior façade, generating the feel of an urban plaza. However, the technical white finish of the exterior façade is exchanged for warm timber here; the impression of technical excellence conveyed to the outside world is modified within the building to suggest a pleasant place to work. The walls of the corridors leading to the open-plan offices and meeting rooms are mostly glazed. The open-plan kitchenette facilities are close to the stairs to promote communication. An auditorium seating 120 on the ground floor completes the building's functional mix.
The main access to the new building is located on a forecourt to its north, tucked away from the transport hub. A footpath leading through the complex links the various buildings belonging to the company on the site. Hence, the ground-floor area in the interior is conceived as a passageway. As a central space for SMA events, the atrium adjoins it like an urban plaza.
Building Typology:
Office
Location:
Kassel
Country:
Germany
Planning / Construction Period:
2010 - 2012
Order type:
New Building
Client:
SMA Solar Technology AG
Scope of Services:
Architecture
Interior Design
Gross Floor Area:
14000 m²
Awards:
Verzinkerpreis 2015 (1st prize)