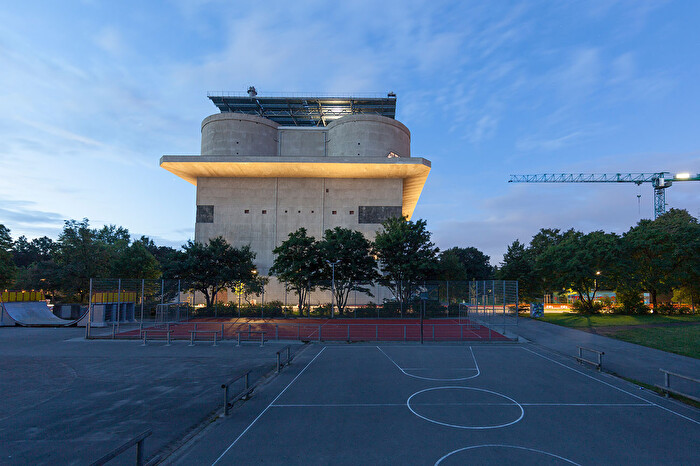 Energy Bunker
This former anti-aircraft bunker in the urban district of Wilhelmsburg is to be transformed into an "energy bunker". Largely destroyed internally and unused for around 60 years following its disarmament in 1947 when the interior loadbearing structure was destroyed, the tower is now in need of substantial renovation of the concrete shell and restoration of the loadbearing structure in preparation for public use, and as the technical control centre for a district heating system for the neighbouring residential areas. The design provides for two different future uses, public and technical.
The upper floors will house a museum, where one of the gun emplacements in the turrets will be transformed into an exhibition area. The adjacent emplacement will be kept in its original condition and will also be accessible to visitors. The museum café is located beneath the exhibition areas. The existing projecting area will be used as an all-round exterior terrace.
The lower storeys will house the technical centre for the planned district heating system. A reservoir for hot water with a capacity of approx. 8,000 m3 is located in the centre of the building, and a solar collector façade of approx. 1,600 m² is to be installed on the south side of the building. A roof-mounted photovoltaic surface of approx. 2,000 m3 is connected to this at an angle. The perception of the outline of the original bunker is not affected.
The uses are to be housed in the building with minimum intervention, and made visible from the outside. Subtle architectural elements on the anti-aircraft bunker suggest the new, civil uses while preserving the building's original character. The museum café within the tower will have a generous window opening, and a large opening on the west façade will initially be used for structural maintenance and will later serve as a viewing window into the future technical service facility for the district heating system.