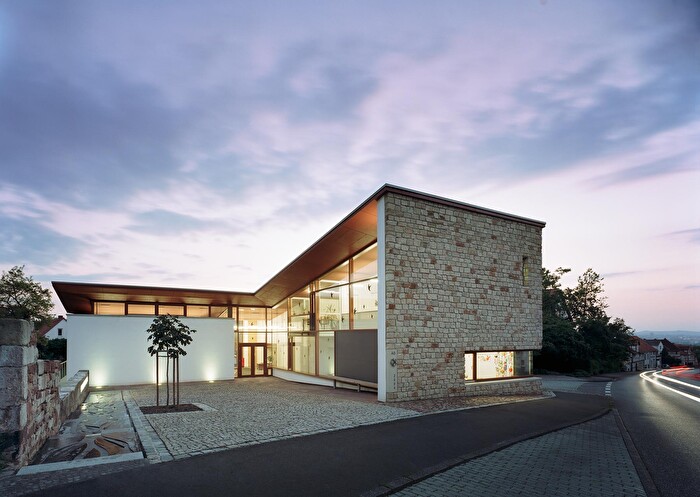 Community centre and vicarage
The quadrangle of the walled church garden was located in the village centre. The new buildings for the vicarage and community centre accentuate the themes of centrepiece and walls in various ways. The adoption of historical "irregularities" enables the simple, stereometric buildings to be incorporated seamlessly into the scattered village landscape.
The community centre was located on the north side in place of a former farmstead. The new buildings and the historic church wall form a courtyard that is open to the street and yet sheltered, for various community activities. The hall "in the wall" opens up the view to the church.
The vicarage on the southern side benefits from the quality of life offered by the peaceful walled orchard. Public and private areas of the vicarage are distributed between two buildings. The private house was positioned parallel to the church wall on Crumbacher Strasse, while the meeting room and archive follow the contours of the existing and extended wall along Kirchweg.
Building Typology:
Culture
Location:
Lohfelden
Country:
Germany
Planning / Construction Period:
10/2007
Order type:
New Building
Client:
Protestant parish Lohfelden-Crumbach
Project Participants:

Structural engineer: IB Goldmann
HVAC vicarage: innovaTec Energiesysteme GmbH, Ahnatal
HVAC community centre: EWH-Ingenieure, Kassel
Landscape architecture: HHS Planer + Architekten AG / Michael Neidnicht, Borken
Passive house consulting: Passivhaus Dienstleistung GmbH, Darmstadt

Scope of Services:
Architecture
Interior Design