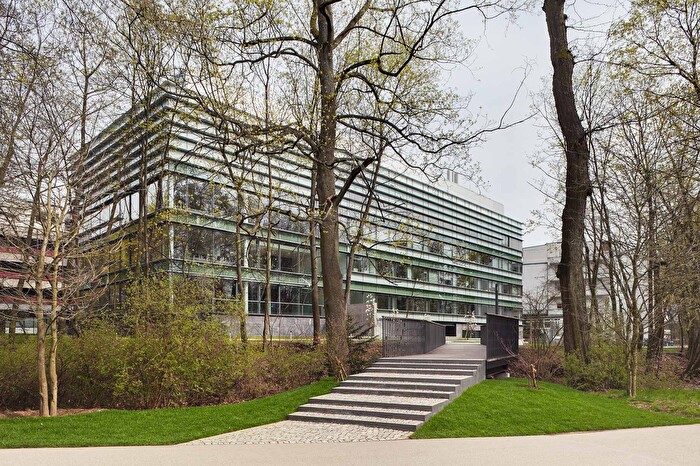 Max Planck Institute for Heart and Lung Research
The new building for the Max Planck Institute for Heart and Lung Research, W. G. Kerckhoff Institute, is a laboratory building with animal holding facilities.
The site of the building is on the Benekestrasse in Bad Nauheim, forming part of a large clinic complex. Account had to be taken of the functional and technical connections with the existing buildings.
The building was constructed to house three scientific departments with laboratories and services for cell biological, biochemical and genetic research. Because of this research element and its work involving animals, a central animal holding facility was also integrated in the building.
Further functions, such as seminar and meeting rooms and a central cafeteria for the employees, were planned at the entrance level.
Externally, a largely glazed lightweight metal structure with coloured glass elements at parapet level reflects the forward-looking nature of the research and ensures that the building stands out from the existing older buildings. This lightness minimises the effect of the spatial closeness to the neighbouring buildings.
Building Typology:
Office
Location:
Bad Nauheim
Country:
Germany
Planning / Construction Period:
08/2006 - 10/2009
Order type:
New Building
Client:
Max-Planck-Society, Munich
Project Participants:

Architecture working partnership: doranth post architekten, Munich; HHS Planer + Architekten AG, Kassel
Laboratory planning: Eurolabors AG, Kassel
Structural engineer: Cordes + Partner, Ottobrunn
HVAC: abi, Würzburg; tfi , Mannheim

Gross Floor Area:
9800 m²