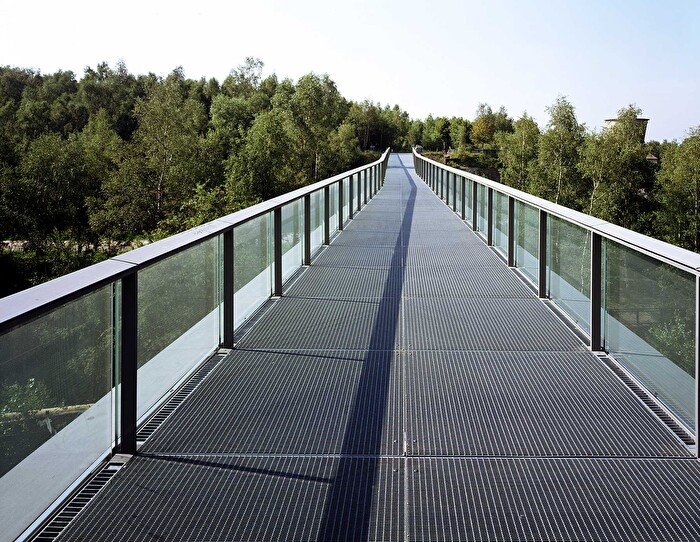 Pedestrian Bridge
The footbridge connects two raised plateaus of a new park on the site of the former KRUPP steelworks. The 100 metre-long bridge forms the final part of a circular path within the West inner-city park, and in conjunction with the Canyon it forms the gateway to the Century Hall.
The V-shaped supports, which transfer their loads to large blocks, not only highlight the gateway aspect, but also convey the idea of crossing the valley on stilts.
The night-time illumination was developed as an interactive project together with lighting artist Achim Wollscheid. Movement sensors detect people crossing the bridge and a computer program converts this information into control impulses for the lighting, causing the light to follow people playfully as they walk across.
Building Typology:
Transport, Infrastructure
Location:
Bochum
Country:
Germany
Planning / Construction Period:
05/1999 - 10/1999
Order type:
New Building
Client:
LEG Landesentwicklungsgesellschaft NRW GmbH, Dortmund
Project Participants:

Structural engineer: Bollinger + Grohmann, Frankfurt am Main
Light Art: Achim Wollscheid, Frankfurt am Main

Scope of Services:

Architecture

Awards:
Renault Traffic Design Award 2003
BDA Award for Good Buildings 2003