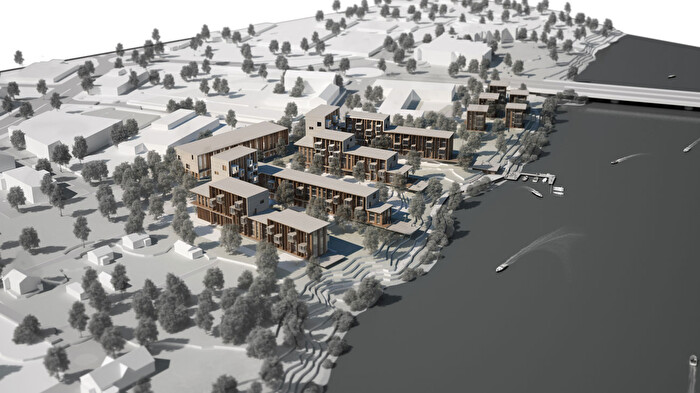 International E2 Ecological and Economical Wood Construction Competition
1.Prize - Competition entry
Although Finland's forests are its most important natural resource, it is almost always concrete that is used for high-rise construction in the country. The city of Kouvola, the economy of which has been adversely affected by the decline in the paper industry, recognised the potential for development and in October 2010 launched the international "E2" competition for planning teams comprising architects, engineers and contractors from the timber construction industry. The brief was to develop a timber construction system that uses the design and structural properties of the material to full effect, thus demonstrating its ecological and economic benefits compared to masonry. A pilot project on a riverside site in Kouvola was to demonstrate the architectural variety and flexibility of the system.
The attractive surroundings of the pilot project between rivers, residential, industrial and mixed zones, together with the adjacent four-lane highway, presented a unique set of urban planning challenges. The design, with all the residential properties facing the waterfront, public access across the district and, above all, the location of the public areas, immediately adjacent to the water, give the district a lively feel and special character.
System-building in timber
The timber construction system developed for the competition offers a very fast, efficient construction method. Just three types of large-scale prefabricated loadbearing panels are used to create a wide variety of types and layouts. The wall, roof and ceiling elements are made of hollow boxes, factory-fitted with thermal and sound insulation, connecting elements and channels to provide a seal against wind and moisture penetration.
The clear span of the ceilings, up to 12 m, offers extraordinary adaptability over the whole life cycle of the building. The freedom of arrangement and layout of the partitions also allow for substantial design flexibility. The pilot project involved the design of small flats for singles, as well as medium-sized and large apartments for occupation by people of all generations.
Building Typology:
Housing | Office | Master Planning
Location:
Kouvola
Country:
Finnland
Planning / Construction Period:
2011
Order type:
Competition entry
New Building
Client:
City of Kouvola
Project Participants:

Structural engineer: Arup Gmbh, Berlin
Wood products company: Finnforest Merk GmbH, Aichach
Landscape architecture: Mann Landschaftsarchitekten, Kassel

Scope of Services:

Architecture